PERL Logistics
Platform for Education and Research in Logistics was created as a part of the Tempus No. 517414-SMHES project that aims to strengthen the development of training of logistics in Morocco.
As part of this project, three excellent platforms for training and research in logistics (PERL) were implemented: the PERL North located in Tangier, the PERL Centre located in Casablanca and PERL South located in Marrakech and Agadir.
The three PERL will play a major role in the technological and economic development in logistics field. Their design is based on the establishment of an approximation University / Company space to improve the employability of graduates in logistics and benefiting businesses by applied research in this area.
The South PERL covers two regions that of Marrakech, Tansift,Eelhaouz and the region of Agadir Souss Massa Daraa. In this project, the Marrakech region is represented by the University Cadi Ayad while the SMD region is represented by Universiapolis University.
Platform partners :

Tempus Platform :

Offered services :
Continuing education diplomas:
The Perl-South Agadir platform offers three International Masters in areas related to logistics:
Master Supply Chain in partnership with the IAE of Metz.
Master Industrial Engineering Systems in partnership with the Training and Research Unit MIM-Metz.
Master Quality in partnership with the IAE of Metz.
Training in the map:
Through its consulting and training cabinet Centaur-Innovation, the PERL-South Agadir offers tailor-made services and training for companies of the region.
RDI provision:
A unit of research, development and innovation in the field of logistics provides companies a research team able to offer expertise services with high added value.
Certifications:
The Perl-South Agadir has a testing center Pearson Vue authorized to offer certification exams associated with the supply chain in this case the APICS certifications.
Students can benefit from the proximity of the center for their certification exams.
2014 – 2015 Achievements
Tangible table: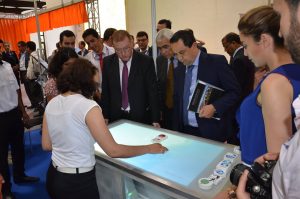 Connected to a geographical information system, the tangible table is a real tool for decision making and a demonstrator of Morocco's logistical and transportation situation in general and the Southern region in particular.
This achievement was presented at Logismed 2015 show and at the logistics operators meeting organized by the Chamber of Commerce of Tenerife.
Networking Action: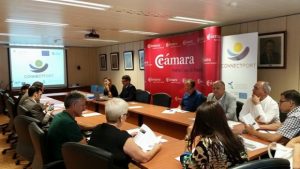 A delegation of the Souss CGEM President, a AMDL executive and Universiapolis executives participated in a networking trip with logistics structures of Luxembourg organized by the Perl-South in March, 2015.
Study Trip: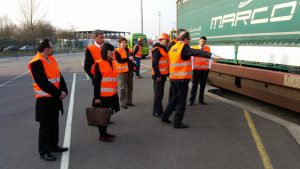 Perl South Agadir antenna organized a study trip to the Tanger-Med port site and the dry Port of Mohammedia in April 2015 in favor of logistics managers in continuing training.
Center resources
Mini-plant Simulator

Oriented practice, the training offered by the Centre are held when needed in real physical flow simulation rooms. A mini-plant was equipped for this purpose.
Educational games: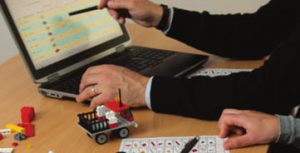 Many educational games are available to trainers to make courses more practical. MRP applications, the global chain illustration, agile project management … are some examples of models used in training.
Computer labs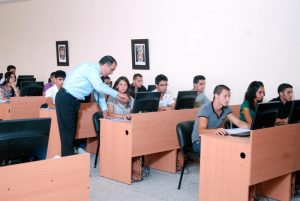 More than 200 computers at the disposal of students for a very supported training on appropriate software tools. Rooms are equipped with industrial and logistics simulation software as ARENA, Promodel …
APICS Certified Teachers :
Ilias Majdouline – Ph. D, BSCM, MCP.   CV …
Lahcen MIFDAL – Ph.D, BSCM. CV …