Residence
For students who do not have residence in Agadir, Polytechnic Agadir provides access to the residence of Universiapolis campus. Designed by modern standards and very practical new generation of university residences, the Universiapolis residence offers many benefits that make life easier for students:
Furnished and independent apartments:
The residence offers independent apartments with different configurations. Students have a choice of apartments 2, 3 or 4 students. These configurations allow good conditions for cohabitation. All apartments have the necessary basic furniture (bed, wardrobe, desk, fully equipped kitchens, solar water …). Students can also access (on command) to other devices (double bed, TV screen …).
Equipped Kitchens:
Each apartment has a kitchen equipped with fridge, stove and dining area. This allows resident students a better autonomy in managing their daily meals.
Students roommates share the same kitchen and the same facilities. They have a small supermarket within the complex where they can perform their daily food purchases. A supermarket is also located close to their place of residence.
Reading Spaces:
Students can be together in the large reading room on the ground floor to perform their work and group project. The opening hours are arranged to give students the maximum working time and concentration.
Local shops:
Inside the residence, the student has access to multiple services without having to leave the campus. A supermarket, laundry, photocopy center, a surf school … are all accessible on the ground floor of the residence for comfort of residents.
Sports Hall:
UniversiaSport is a gym club with a large sports hall located within Universiapolis residence. Led by professional coaches, the club allows students and other members of different sport activities (Biking, Body Pump, Boxing and other events).
Restoration:
Wood fired pizza and sandwich shop "La Siciliana" of Universiapolis offers varied menus at low prices accessible to all students.
Canal M Agency: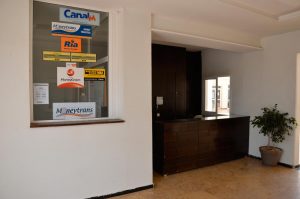 To facilitate money transfers to students, a Canal M agency is installed at the entrance of the residence. Speed, proximity and security are the main advantages of having such an agency within the campus.
24h / 24 Security and surveillance:
The residence is under video surveillance 24/24 by cameras located at all entrances of residential blocks. The entrance of the residence is also monitored by security guards. Access to the residence is available to University students in a specific internal regulation.
Free WIFI:
WiFi covers all campus including Universiapolis residence. Students can also subscribe to personalized ADSL lines.