Historic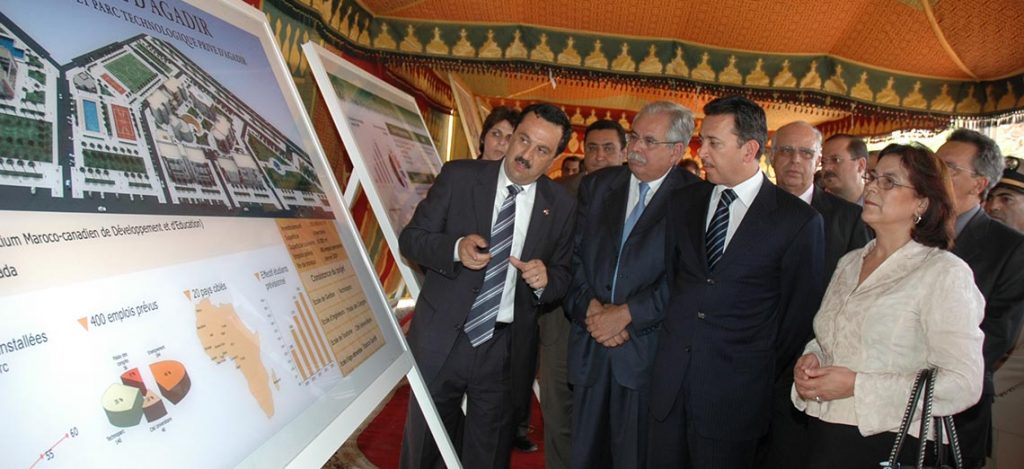 Created in 2004 by the Universiapolis group, Polytechnic School of Agadir is an engineering school that has capitalized on 25 years of the founding group experience in the North American pedagogy applied to higher education. This educational approach is seen in the how-to character of the two preparatory years supported by indispensable educational tools in the North American approach (Syllabus, basic book, teacher evaluation, skills certification …).
Polytechnic Agadir offers students a wide range of engineering sectors adapted to the changing job market. It thus offers more than 12 programs organized in accredited engineering cycles, international mobility and international Masters cursus.
To ensure the best conditions for training, Polytechnic Agadir has a twenty technological laboratories equipped with modern teaching materials and increased its staff by over 90 interfering including 30 international.
With an international vocation, the school develops very active cooperation with different institutions on four continents.
In 2006, a partnership agreement signed between Polytechnic Agadir and ENSAIA (National School of Agronomy and Industry) in Nancy has allowed the start of an industrial engineering course option Food Industry. This course was opened for the first time in 2010/2011.
In 2007, a convention with the University of Quebec in Outaouais in Canada was signed to allow students of Polytechnic Agadir to pursue multimedia oriented software engineering cursus.
The opening internationally was reinforced by a cooperation agreement with ENI Metz (Ecole Nationale d'Ingénieur). This agreement allowed the opening of a master delocalized in Industrial Systems Engineering in 2009, then the creation of an engineering Mechanics course in 2010.
In 2010, a decisional computing Masters was opened in continuous training with the University of Lorraine. In the same year, a partnership was initiated with the Poznan Polytechnic enabling students to benefit from new gateways to new English programs.
The year 2011 was marked by the inauguration of the agreement signed with Wuhan University in China with an exchange program benefiting fifteen students of Polytechnic Agadir greeted at a Wuhan stay for 3-month study.
Two double degree agreements were signed in 2012 with the Ecole des Mines de Nancy and the National School of Engineers of Brest. Both agreements allow students to get half their course in Agadir and the other half in France to obtain a double degree. That same year saw the completion of the first prototype race car designed and built by students of the school engineers.
In 2013, Polytechnic Agadir made accredit all its courses by the Moroccan Higher Education Ministry. This recognition is added to the labor market, international academic partners and institutional partners.
In 2015, the school signed an agreement with Poznan Medical University to open an English pharmaceutical preparation program. This is the first such program in Morocco allowing students to prepare a Pharmacist degree in Poland.
The first decade was a cumulative experience of research and rich and intense international cooperation. This expertise has positioned Polytechnic of Agadir as an important player in the training of engineers in Morocco and several African countries. For this reason, Polytechnic of Agadir was requested to relocate its training programs in both countries in sub-Saharan Africa (Gabon and Senegal). It is with Libreville International University and the School of Technology Dakar that Polytechnic School of Agadir exports its know-how and its programs.